The Berkeley APEC Study Center is currently looking for new ways to connect its alumni. This section features some of the accomplishments of our alumni and their contact information. The list is organized by the academic year in which the alumni begin their research at BASC.
If you are one of our alumni and would like to be listed in this directory, we invite you to send us your information at basc@berkeley.edu. Thank you!
---
2008 | 2007 | 2006 | 2005 | 2004 | 2003 | 2002 | 2001 | 2000 | 1999 | 1998 | 1997 | 1996
Fall 2007 – Spring 2008
Nathan DeRemer is currently a graduating senior studying Political Science and English. After graduation, he will be an Information Systems Clerk for the Los Angeles-based law firm Stone Rosenblatt and Cha. Born and raised a sports fan in Los Angeles, Nathan remains an adamant fan of the Lakers, Dodgers, Minnesota Vikings, and, of course, the California Golden Bears. He loves Mexican, Middle Eastern and Indian food, Champions League soccer, and the ocean. Whenever he can escape his addiction to current world news, film and music of every genre, you can most likely find him spending time with his family, at the beach or at a local concert event with his friends. At Berkeley, he wrote for The Daily Californian for three years and completed his honors thesis on J.M. Coetzee's Disgrace.
» E-Mail: natmer@gmail.com
Ross Cheriton completed his Political Science degree at UC Berkeley in 2008. As a student, he focused his studies on East Asia relations and political economy. Following graduation, he was commissioned as an officer in the U.S. Army, and now works as an Intelligence Surveillance and Reconnaissance Platoon Leader at Joint Base Lewis-McChord, Washington. He deployed to Afghanistan in 2010 and was responsible for planning and conducting intelligence collection operations in Helmand and Zabul Provinces. In between work and preparing for graduate school, Ross makes the most of his time by sailing and exploring the Puget Sound, Seattle, and greater Pacific Northwest.
» E-Mail: rosscheriton@gmail.com
---
Fall 2006 – Spring 2007

Nikhil Kumar is an Associate at LEK Consulting. Nikhil Kumar worked at the Berkeley APEC Study Center in 2006 and 2007. His main projects focused on the Indian economy after its financial liberalization during the early 1990s and on how businesses lobbied North American governments before the passage of NAFTA. Nikhil graduated from Berkeley with a degree in Business Administration and a degree in Political Science. He is now working for LEK Consulting in Los Angeles, and hopes to return to school after a few years to pursue a JD and an MBA. In the future, Nikhil wants to engage in public policy-making and to teach as a college professor.
» E-Mail: NikhilKumar87@gmail.com
David Guarino is currently an Assistant Public Policy Analyst with the California Health Benefits Review Program, which responds to requests from the California State Legislature to provide independent analysis of the medical, financial, and public health impacts of proposed health insurance benefit mandates and repeals. He graduated from Berkeley in 2007 with a degree in Political Economy. Prior to engaging his real passion in the public policy sphere, he served on the Board of Directors and as Vice President of Financial Affairs for the Berkeley Student Cooperative, a non-profit low-cost housing organization serving more than 1,200 students. He has also previously worked as an analyst in biotech and pharmaceutical consulting.
» E-Mail: david.w.guarino@gmail.com
---
Fall 2003 – Spring 2004
Henluen Wang is an MBA Candidate, Class of 2010 at Harvard Business School. She is currently attending Harvard Business School and expects to graduate in May 2010. Prior to business school, she worked in corporate finance for four years, two at Yahoo!'s Corporate International Operations Finance group and two as an associate in the Communications & Media Group of FTI Consulting's Corporate Finance Division. Henluen graduated with a B.A. in Political Science, summa cum laude, and a B.S. in Business Administration, cum laude, from UC Berkeley in 2004.
» E-Mail: henluen@yahoo.com
---
Fall 2002 – Spring 2003
Vinay Shamasundara is a research assistant between September 2002 and May 2003, graduated in 2004 with a B.A. in Economics. After that, he worked in the Bay Area for a major Management/IT consulting firm, during which time he realized that he instead wanted to pursue Medicine. As such, he left the consulting industry in the spring of 2007, enrolling in Bryn Mawr College's post-baccalaureate pre-medical program, and then working in pediatric research at the Children's Hospital of Philadelphia. He will enter medical school this fall.
» E-Mail: vinay@cal.berkeley.edu
---
Fall 2001 – Spring 2002
Priyanka Anand is currently a graduate student in the Economics Department at Yale University. Priyanka is currently completing a Ph.D. in Economics at Yale University. Her areas of research are labor economics and applied econometrics. Prior to her graduate studies, she was a Fulbright scholar studying the effects of government-subsidized schooling on academic achievement in Chile. She completed her BA at UC Berkeley with a double major in Economics and Political Science.
» E-Mail: priyanka629@yahoo.com
Mytoan Nguyen is a Ph.D. Candidate in the Wisconsin Sociology program. Her research interests include the sociology of economic change and development, race and ethnic studies, and migration. She has conducted research outside of North American in Chile, Australia, and Vietnam. Mytoan received a Fulbright IIE fellowship to study in Australia (2003-2004) and an academic year FLAS fellowship (2008-2009) to pursue Vietnamese language training and coursework in Southeast Asian area studies. She fondly remembers working at BASC with Prof. Aggarwal, many fun political science graduate students, and undergraduate research assistants.
» E-Mail: mnguyen@ssc.wisc.edu
Matt Odette is Assistant Vice President at Union Bank. Matt graduated UC Berkeley in 2002, having spent his senior year as a research assistant at BASC. Since leaving Berkeley, Mr. Odette has held jobs in the legal and finance professions. He spent five years in J.P. Morgan's municipal and infrastructure investment banking group, where he worked on greenfield and acquisition transactions for public agencies and private investors across the United States. Mr. Odette currently works in Union Bank's project finance business, where he arranges financings for generation, transmission and infrastructure projects. He lives in the Los Angeles area.
» E-Mail: odette59@yahoo.com

Daniel Xu is an intellectual property attorney specializing in patent prosecution, patent counseling, and patent licensing. Daniel works for LegalForce RAPC Worldwide, P.C., a modern progressive law firm based in Silicon Valley. With over 15,000 clients worldwide, LegalForce RAPC Worldwide has offices in the United States, Europe, China, and India. Prior to joining LegalForce, Daniel worked as an attorney at Wilson Sonsini Goodrich & Rosati and at the Office of Intellectual Property at UCLA. Daniel holds a J.D. from Duke University School of Law where he was on the editorial board of the Duke Law Journal, the law review of Duke Law. Daniel also holds an M.S. in biomedical engineering from UCLA and a B.A. from UC Berkeley.
» E-Mail: daniel.xu@gmail.com
---
Fall 2000 – Spring 2001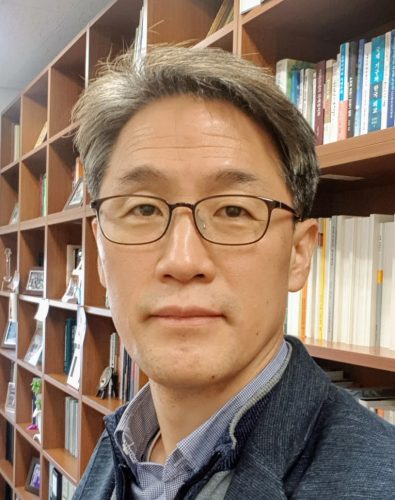 Min Gyo Koo is Professor in the Graduate School of Public Administration at Seoul National University (SNU). His research interests include East Asian political economy and maritime affairs. He is the author of The Political Economy and Law of International Trade: Between Free Trade Ideals and Mercantilist Bias with Byung-Sun Choi, and Island Disputes and Maritime Regime Building in East Asia: Between a Rock and a Hard Place. He has also co-edited The Korean Government and Public Policies in Development Nexus: Sustaining Development and Tackling Policy Changes and Asia's New Institutional Architecture: Evolving Structures for Managing Trade, Financial, and Security Relations with Vinod K. Aggarwal. Aside from many book chapters, he has published his research in a wide range of journals, including Ocean Development & International Law, International Relations of the Asia-Pacific, The Pacific Review, Pacific Affairs, and Asian Perspective.
» E-Mail: mgkoo@yonsei.ac.kr

Faisal Ghori is an investment professional at an emerging markets-focused alternative investment firm, where he concentrates on the Middle East. Upon graduation, Faisal joined a bulge bracket investment bank. Later, he was the recipient of a Fulbright Fellowship – spending time in Amman, Jordan and Dubai, UAE – where he investigated the technology landscape in the Middle East, scouring for investment opportunities. He speaks Arabic, Hindi, Punjabi, and Urdu.
» E-Mail: fghori@cal.berkeley.edu
---
Fall 1999 – Spring 2000

Justin Kolbeck is currently a Senior Associate at PwC Consulting. Until March, 2013 he was a Foreign Service Officer at the US Department of State. He was worked at consulates in Pakistan and Australia, and was the civilian team leader of a provincial reconstruction team in Afghanistan. Most recently, he served as Economic Policy Officer for the Bureau of Western Hemisphere Affairs, in Washington, D.C. Justin worked as an investment adviser in California for three years prior to joining the U.S. Foreign Service in 2006. Originally from Whittier, Justin received his B.A. from Berkeley and a Diplome International from l'Institut d'Etudes Politiques de Paris ("Sciences Po"). He speaks French and Pashto.
» E-Mail: justinkolbeck@hotmail.com
---
Fall 1998 – Spring 1999

Moonhawk Kim is Assistant Professor of Political Science, University of Colorado at Boulder. Moonhawk is an assistant professor at CU Boulder. His research deals with various challenges to the governance of international trade. His work focuses on the evolution of preferential and multilateral trade institutions and the causes and consequences of reconciling trade rules with rules governing non-trade issues, such as labor, environment and development. He teaches courses on international political economy and international organizations at both undergraduate and graduate levels.
» E-Mail: moonhawk.kim@colorado.edu
Brandon W. Loew is an associate attorney in the Palo Alto office of Gibson, Dunn & Crutcher, where he is a member of the Firm's Corporate Transactions Practice Group. Loew specializes in the representation of public and private companies in capital markets transactions and complex mergers, acquisitions and joint ventures. He has represented issuers and underwriters in SEC-registered, Rule 144A and other capital markets transactions valued in excess of $8.5 billion, including initial public offerings, follow-on equity offerings, investment-grade and high-yield debt offerings, trust preferred securities offerings and debt tender and exchange offers. In the mergers, acquisitions and joint ventures arena, Mr. Loew has represented clients in a number of significant transactions valued in excess of $2 billion. Mr. Loew also advises clients with respect to ongoing SEC-reporting obligations and has been involved in highly-sensitive internal "whistle-blower" investigations by public companies. Loew received his Juris Doctor in 2002 from Columbia Law School, where he was a Harlan Fiske Stone Scholar and a senior editor of the Columbia Law Review. He graduated in 1999 from the University of California, Berkeley with a Bachelor of Arts degree (with high distinction) in Economics and Political Science. Prior to joining Gibson, Dunn & Crutcher, Mr. Loew was an associate attorney at Sullivan & Cromwell in New York, NY.
Mr. Loew is a member of the New York Bar.
» E-Mail: BWL7@columbia.edu
---
Fall 1997 – Spring 1998
Paul Dosh is Assistant Professor of Political Science at Macalester College. Before joining the Macalester faculty in 2004, Paul Dosh taught comparative, Latin American, and urban politics at Carleton College. He holds a B.A. in Political Science from Carleton (1996), a Ph.D. in Political Science from UC Berkeley (2004), and is the recipient of several teaching awards. His publications on pedagogy, human rights, and urban segregation appear in the Political Science Educator, Latin American Perspectives, Latin American Politics & Society, and the Journal of Latin American Studies, and he is writing a book about urban social movements in South American cities.
» E-Mail: dosh@macalester.edu
---
Fall 1996 – Spring 1997

Ravi Bhandari is Associate Professor of Economics and Chevron Chair of Development. He has been awarded numerous teaching awards and has worked at the Universities of San Francisco, Hawaii, and most recently UC Berkeley before joining Saint Mary's College in California. His teaching and research interests include development economics, the history of economic thought, labor economics, comparative economics, econometrics, the sociology of development, and world economic history. Professor Bhandari has published in leading international journals such as the Journal of Developing Societies, Journal of Economic Studies, Review of International Political Economy, and Sociological Bulletin. Professionally, Professor Bhandari has worked as a lead economic consultant for various international development agencies. Currently, Ravi is a Fulbright Senior Scholar in Nepal and Visiting Professor at both Kathmandu University's School of Management and Tribhuvan University exploring the causes and consequences of inequality on growth, conflict, and democracy. His research also hopes to situate the recent experience of Nepal in a larger international context with other failed/post-conflict states — Afghanistan, Sudan, Kosovo, Congo, Cambodia, and Guatemala.
» E-Mail: online—ravib@hotmail.com