In July of 2016, in an arbitration brought forth by the Republic of the Philippines, the Permanent Court of Arbitration (PCA) found the People's Republic of China in violation of the UN Convention on the Law of the Sea. In this decision, the PCA found China lacking all merit in their alleged historic claims to resources "falling within the 'nine-dash line'", an arbitrary boundary set by the Chinese government.
This ruling, according to Paul Reichler, coordinator of the Philippines' legal team and partner at Foley Hoag LLP, "not only benefits the Philippines, [but] it also benefits other states bordering the South China Sea like Indonesia, Malaysia, and Vietnam. If China's nine-dash line is invalid as to the Philippines, it is equally invalid to those states and, indeed, the rest of the international community."  This sentiment was echoed by leaders throughout Southeast Asia as a new-found hope that their most powerful neighbor, China, could at last be controlled began to emerge.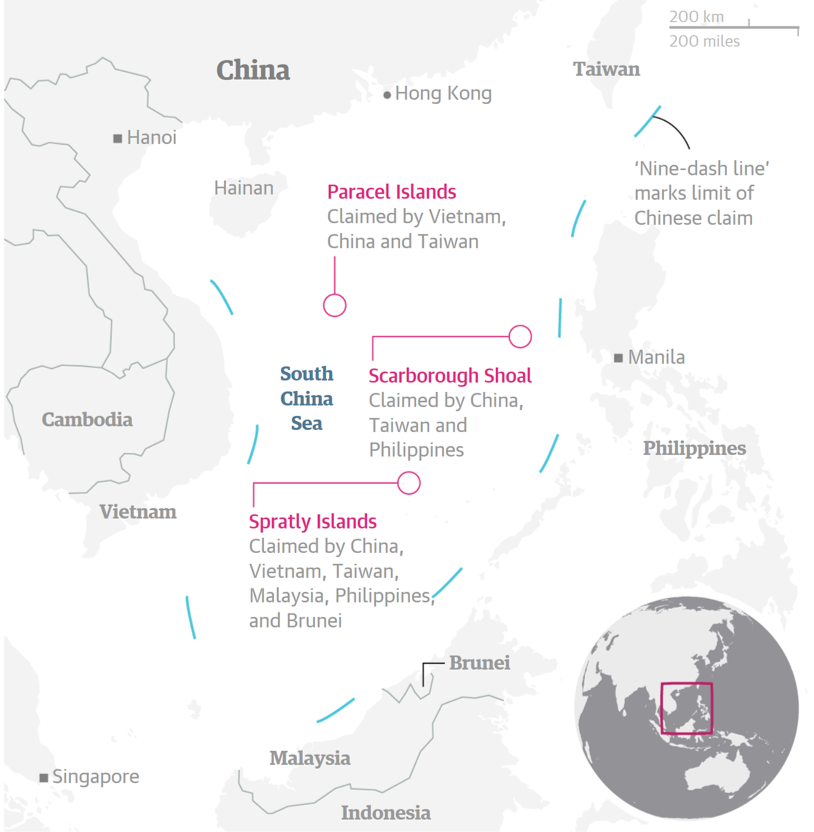 This hope, however, was short-lived. Despite the seeming victory of the Philippines and ASEAN-member states in the July ruling, China has refused to accept the ruling. In the words of Chinese President, Xi Jinping, China's "territorial sovereignty and marine rights in the seas would not be affected by the ruling, which declared large areas of the sea to be neutral international waters or the exclusive economic zones of other countries." This statement sent a clear signal to ASEAN and the international community of China's resolve to continue to be uncooperative.
As a result of China's refusal to acknowledge this ruling, questions are beginning to be raised with respect to the Permanent Court of Arbitration's ability to enforce this ruling as well as its effectiveness as a body.
However, one of the issues with international law – whether arbitrated by the Permanent Court of Arbitration or the International Court of Justice, among others – is its inability to enforce its rulings and hold those found guilty accountable for their actions, a problem that only worsens as the power of the involved state increases. With China, the Permanent Court of Arbitration has indeed been unable to enforce its ruling other than to simply state that China is violating international law, which alone is of little consequence to the Chinese government.
Nevertheless, the Philippines and ASEAN have vested interests in the enforcement of this ruling. For ASEAN, a victory in this action against China would bolster ASEAN's own power as well as its trustworthiness among its member states.
Even so, despite ASEAN Secretary General Le Luong Mihn's calls for the Permanent Court of Arbitration's ruling to be "legally binding," at the 30th ASEAN summit in Manila, ASEAN and leaders of its member states failed to address or even mention this issue. This omission in effect demonstrates AEAN's lack of political will to engage in a confrontation with China. Though it was later released that ASEAN leaders discussed various "regional international issues and developments" particularly in the "area," the soft language, perhaps as a consequence of ASEAN's historic weakness as a body, only has worked to further bolster China's claims in the South China Sea. Furthermore, this softened language worked to send an international message that China could promote its own political interests without repercussions or pushback from states within the region
The results of the tribunal, China's refusal to follow the ruling, and ASEAN's subsequent lack of action also demonstrate one further thing: China is becoming an increasingly powerful state that is "willing to take unilateral action against its neighbors"  when it is convenient or in its best interests to do so. Coupled with China's increased militarization, particularly in Southeast Asia, the security of ASEAN-member states could be increasingly placed at risk. If unchecked, as it has been thus far, that kind of power could be a threat to international security and peace, as well as bring forth a confrontation directly between the ASEAN-member states and China.
Featured Image Source: Reuters